Exploiting the benefits of electric heating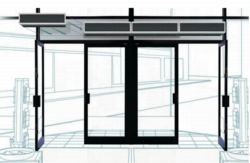 KAREN TREWICK explores how electric-heating solutions can improve a building's energy efficiency.Finding a heating solution that meets the demands of both the owner and its occupants is not always so straightforward. The bill payer wants to maximise efficiency, while the users are usually more concerned with maintaining comfort levels and do not consider the running costs. Fortunately, with electric heating there is such a diverse range of products that the demands of all parties can be met. For starters, electric heating delivers 100% efficiency at the point of use, is extremely safe and offers flexible installation, low-capital costs and no annual maintenance. However, the key factor in any environment is controllability, as a responsive system that fits in with the building's pattern of usage is essential — which is where electric heating really scores.
Open up the doors
In commercial and industrial buildings, one of the most frequent challenges for energy management is the problem of opening doors, which not only wastes energy, but also cause draughts — creating an unpleasant working environment. Commercial air curtains are the ideal solution for this problem. They are not a source of heat; instead they force air at high speed across the complete doorway, rather like an 'invisible door', which prevents air movement between the internal and external environments. This keeps heated (or cooled) air in and external draughts and pollution out. Because air curtains must cover the complete doorway, it is important to look for manufacturers who can offer flexibility in their range. The Dimplex CAB and DAB ranges, for example, come in lengths of 1 and 1.5 m lengths and simply link together to provide 'gap-free' coverage across almost any door width. To further improve energy efficiency, look out for models that are compatible with timers and door sensors. Some door curtains are also fitted with an interface to a building-management system interface as standard, so they can operate as part of an integrated energy-management system.
Heat people not space
In spacious premises where only a few people need to keep warm, it is expensive and impractical to heat the whole area. The simple and economic answer is a quartz or ceramic infra-red heater. Infra-red heaters work by providing a highly directional beam of radiant heat. The short wavelength at which energy is emitted means almost instantaneous heat up times, high efficiency and long heat throws, so heaters can be mounted at high level. Quartz heaters have the shortest wavelength and highest temperatures and so provide the most effective heating effect and fastest heat-up. However, ceramic heaters, with somewhat lower surface temperatures and slightly longer wavelength, offer the benefit of providing very effective radiant heating without the visible glow. Heaters can be linked to PIR sensors and on/off timers so that they only operate when someone is near the heater, again maximising energy efficiency.
Powerful performance
For large spaces requiring full heating, powerful wall-mounted fan heaters are an ideal solution. Look out for models with rugged designs, multi directional wall-mounting brackets and powerful centrifugal fans for a fast flow of warm air to quickly raise air temperatures.
Wall-mounted fan heaters can be very effective at heating certain types of space — especially those models that can be centrally controlled. The Dimplex CFH range, for example, offers full system control of up to 10 heaters.
If more than one unit is being used, for improved efficiency, look out for models which are centrally controlled. The Dimplex CFH range, for example, offers full system control of up to 10 heaters using a digital remote programmer.
Living spaces
While commercial buildings and large spaces present many heating challenges, premises that serve as domestic environments can be equally demanding. Student accommodation and hotels are also environments which need special consideration, as individuals demand control over their heating levels but do not actually pay the heating bills. Of electric heating options, panel heaters are highly popular — especially models with no user controls which can link to PIR or keyfob sensors to activate heat to a setting and time period pre-set by the installer.
Water heating
A constant supply of hot water is also now regarded as essential in all types of properties, and electric water heating can offer very flexible, economical solutions to meet the demands of all sizes of building. For small washrooms, an instantaneous handwash unit provides a quick solution for handwashing, while a wall-mounted water boiler is an efficient and safe way of providing regular cups of near-boiling water for tea and coffee. For buildings with a greater demand for hot water, several washrooms or cafeteria, for example, an unvented water storage heater is ideal. Mains-pressure hot water is supplied from a direct connection to the cold mains supply. Durability of use is essential, models with a stainless steel cylinder ensure minimal maintenance. With the very real pressure now on for building-services managers to deliver the 'holy grail' of energy and money saving, electric heating really does offer the fast track route through the heating maze.
Karen Trewick is with Glen Dimplex Ltd, Millbrook House, Grange Drive, Hedge End, Southampton SO30 2DF.
Related links: