Working together becomes a necessity to cut lifecycle costs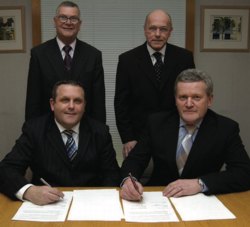 Clients and politicians are stepping up the pressure on the industry to improve the lifecycle running costs of buildings. MALCOLM LINSLEY argues that professional collaboration is the best approach.It is a sobering thought that over 70% of the buildings our society will be using in 2050 have already been built. By than we are supposed to have reduced our carbon emissions by 60% to reduce the impact of climate change. As most of our buildings tend to emit more carbon year-on-year, not less, we have a challenge. We are currently unsustainable. 50% of carbon emissions come from buildings. It is over 70% in London, and the country produces 75 Mt of carbon every year. We have to reduce that by 45 Mt by 2050. There is currently a huge focus on using more renewable energy at the moment; to meet our targets renewable will have to account for 40% of our electricity generation. But there is something much more immediate we can be getting on with. Tightening up our basic engineering approach to buildings would make a huge difference, and a basic audit of the services in most buildings would quickly pinpoint where we can make improvements. The recent Partners in FM Excellence agreement between the HVCA Service & Facilities Group and the British Institute of Facilities Management (BIFM) gives some important pointers to how we might achieve our goals. The two bodies have agreed to work together to develop and promote excellent FM standards; to give each other's members increased access to technical publications, training and other sources of information; and to collaborate on research, standards development, accreditation and assessment schemes, qualification and continuous professional development.
Lifecycle
The role of the specialist contractor in managing the lifecycle of a building is growing as end users wake up to the benefits of having ongoing expert monitoring and servicing of their energy-consuming systems. Energy prices have soared by over 50% in the past two years, and there is little evidence to suggest that the recent highly publicised price rises will be the last. Employers have to balance controlling these costs with getting the best productivity out of their staff. The ideal temperature for desk-based workers is generally accepted to be close to 20°C. Too low a temperature, and the lack of comfort means a lack of concentration and focus. Too high a temperature can lead to a condition called heat stress, where excessive heat leads to fatigue and combines to increase accidents and impair performance. In some buildings, avoiding those high temperatures will require air conditioning. Even air conditioning that is already in place does often not delivering the target conditions. This may be because it was never properly commissioned in the first place or has not been serviced and maintained. A proper maintenance regime also reduces the risk of absenteeism. The impact of allergies and respiratory illnesses has increased dramatically in recent years and is often linked to poorly maintained ventilation systems and inadequate cleaning regimes. Equipment is also sensitive to a lack of temperature control, which can lead to expensive downtime for IT systems and the like.
Payback time
Construction accounts for a meagre 2% of the total lifecycle cost of a building, but the ongoing overheads such as running costs and staff salaries represent something like 70%. A properly managed 'comfort' regime thus allows employers to get the best from their expensive staff and so quickly achieve payback on the building. The rising cost of office space also means that employers tend to accommodate as many people as they can into the available area. This calls for careful management of heating, cooling and ventilation, but in the context of a need to reduce energy consumption. This makes facilities management an increasingly complex and specialised skill. Specialist HVAC contractors need to be working hand-in-glove with FM managers looking at all aspects of system design — including minimising heat losses through the building fabric, reducing solar gain, cutting losses from pipes and ducts as well as carrying out proper commissioning with full system controls in place. Under the requirements of the new Building Regulations Part L, which came into force on 6 April 2006, buildings will have to be pressure tested for airtightness to prevent air leakage, which impairs energy efficiency. For the first time, designers of both new buildings and refurbishment projects will have to make a co-ordinated assessment of the energy performance of the architecture, the building façade and the heating, cooling and electrical services. This means design teams will have to be properly integrated from the start, and energy performance goals will need to be set out at the planning application stage. This is new territory for many firms. The benefit for buyers and tenants is that clear information must be provided about the running costs of the buildings to provide a much better idea of how much it will cost them to own or rent prospective premises. As a result, more clients are looking for longer-term relationships with their specialist FM and building-services suppliers. One-year contracts have become 3-year tie-ups, and three years have become 5-year deals— giving the industry a much better opportunity to deliver high-quality services. More facilities require specialist support on tap. Hospitals, for example, require everything from water tanks to critical systems in the operating theatre and absolutely no downtime. Big banks want contractors on site all the time to ensure nothing goes down and starts costing them money. Providing technically competent people who can diagnose and cure problems on the spot, with an eye constantly fixed on safety issues and all backed up by a 24/7 infrastructure and heavy insurance is a significant investment for a services firm and must be rewarded by the fees they can charge. Managing the risk inherent in many of these projects is an even bigger challenge for building-services firms as there are huge problems of consequential risk if there is a problem. HVCA members can call on the specialist legal support and advice provided by the association. They also work with its education-and-training department to recruit the right calibre of person to carry out the growing FM workload. This is very much a 'people business'. Operatives need good technical and inter-personal skills, as they are often working closely with clients on a long-term basis — and that is quite a combination to find. However, the new spirit of collaboration between HVCA and the BIFM should help us tackle this and the extensive range of challenges facing both professions.
Malcolm Linsley is chairman of the HVCA's Service & Facilities Group.