CP makes light work of saving energy for Damart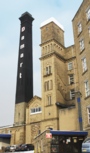 Lighting control in the headquarters of Damart in Bingley, West Yorkshire, based on microwave detectors from CP Electronics is part of a scheme expected to save over £800 a year, with a payback within four years. The 'carbon catcher' scheme devised by lighting and electrical contractor RCE Services showed a detailed calculation of previous lighting running costs and put forward a scheme with lighting controlled according to the presence of people and available daylight. RCE also advised Damart about an interest-free loan from the Carbon trust.
The first phase of the 3-phase refurbishment project provided the opportunity to review and reposition the new 35 W T5 luminaires to maximise lighting levels. Linking them to ceiling-mounted detectors will enable light levels to be adjusted and turned off if no-one is in the area. Existing 100 W T12 and 58 W T8 lighting in the basement and factory areas gave sufficient light, but microwave presence detectors reduce energy consumption. Other areas of the project used CP's EBDPS PIR detector to provide more precise control options, with settings readily adjustable using the control at the rear of the sensor head.
Related links:
Related articles: