Exploiting the capabilities of heat pumps

Getting the best from heat pumps depends on where its energy comes from and how it is to be used. Garry Broadbent discusses how.
The UK heat-pump market is growing at a significant rate — for both residential and commercial projects. The reason is the growing significance of cost saving and carbon reduction.
The increasing focus in the UK on electricity from renewable sources and the ongoing nuclear-power-station programme means that sourcing the most efficient form of electric-powered heating is now a priority in order to match our future electricity generating profile.
Electrically powered heat pumps provide an extremely efficient means of providing heating and hot water for both residential and commercial applications.
The increasing use of heat pumps over the next 10 to 15 years will ensure that as the UK power generation becomes increasingly de-carbonised, replacing fossil-fuelled boilers for residential and commercial space heating with electric heat pumps will achieve significant reductions in carbon emissions. It is worth noting that 35 to 40% of UK carbon emissions are created by residential and commercial heating.
Heat pumps can make real reductions in carbon emissions compared to fossil-fuel use, and these reductions will obviously increase as the de-carbonisation of the grid takes place.
Clients now understand that heat pumps are not new technology and are becoming increasingly comfortable with the fact that they already use refrigeration on a daily basis in the form of the domestic fridge or a standard air-conditioning system. There is already a huge opportunity for installers and specifiers, which will only increase as the market develops over the next five to 10 years However, it is vitally important that heat pumps are specified and selected correctly to meet the demands of varying applications.
With this market developing at such a fast pace, it is vital that specifiers and installers keep up to date with regard to model availability and the options available for applying heat pumps correctly.
Heat pumps are relatively straightforward pieces of equipment to apply if we understand a number of basic factors. The way heat pumps operate varies greatly; here we are not only talking about the output temperature and efficiency but also what the unit will deliver to the user.
Various types of heat pump are available to suit new-build or retrofit applications for residential and commercial projects. Listed below are the broad ranges of equipment that are available in both air-source and ground-source configurations.
In particular, medium-temperature heat pumps deliver temperatures of 50 to 55°C down to ambient temperatures of -5 to -10°C, making them suitable for new-build applications and also retrofit installations where the user is willing to replace hot-water storage cylinders and radiators where appropriate.
Hot-water cylinders and thermal stores
It is important to note that existing unvented or vented cylinders will not be optimised for medium-temperature heat pumps. They will be designed to operate at boiler temperatures above 65°C, and the area of the heat-exchange coil area in the cylinder will be insufficient for a flow temperature from a heat pump of a heat pump of around 50 to 55C.
Best practice will be to replace the cylinder with a fully optimised cylinder or thermal store designed to operate with a medium-temperature heat-pump system. These cylinders are becoming more widely available and an installer/specifier should seek advice from their heat pump provider for any cylinder recommendations.
If an installer attempts to use a non-optimised cylinder with a medium-temperature heat pump, the heat pump will simply achieve its flow temperature too quickly and cycle out due to an insufficient area for heat exchange.
Thermal stores are ideal for use with medium-temperature heat pumps due to their heat-transfer efficiency and the fact that domestic or sanitary hot water is provided direct from the mains feed, which eliminates any potential for bacterial growth within the cylinder with no requirement to provide any additional electric heating for anti-legionella protection.
Cylinders and high-temperature heat pumps
Here we have a slightly different scenario as a heat pump capable of 65°C will provide a temperature more comparable with boiler temperatures and interact better with an existing cylinder on a retrofit application. Note that the heat pump should be capable of providing a temperature of 65°C with ambients below -5°C, or the cylinder will rely too heavily on the electric immersion heater during lower ambient periods over the Winter.
Radiator, underfloor heating or fan coils?
Heat pumps should be installed to a best-practice standard where the distribution system is designed to allow the heat pump to work within its optimum temperature range — i.e. as far down its operational temperature curve as possible. This is why underfloor heating is often seen as most appropriate with a heat pump because its operates effectively with flow temperatures in the region of 35 to 45°C.
Radiators can also be used with a 45°C circuit temperature if correctly specified. In other words, the surface area of the radiator must be matched to the heat output required for the area in question at a system temperature of 45°C.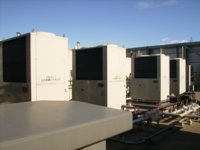 It is important that a medium-temperature heat pump should be capable of delivering an output temperature of 50°C at -5°C ambient, and radiators should be correctly specified for this condition.
In addition to these conventional methods of distribution, fan coils can also be used to provide a well optimised heating distribution system, with the added benefit of providing optional cooling when using a reversible heat pump.
High-temperature heat pumps
Higher-temperature heat pumps are second generation heat pumps that provide higher output temperatures and provide a direct replacement for a standard boiler.
These units minimise installation time and cost and can be a solution to an installation requirement where a medium-temperature unit will not do the job, as these units will deliver a high temperature output in ambient temperatures as low as -12°C.
There are a number of these units available, and there are also a number of units available that use carbon dioxide as the refrigerant. However, a heat pump with a standard refrigerant will provide a suitable high-temperature output for a residential application with lower cost and higher efficiency than a comparable CO2 unit.
CO2 heat pump units that provide hot water at over 80°C are an ideal solution for commercial projects where a large daily volume of sanitary hot water is required. On these applications, hot water can be produced overnight on a cost-effective electricity tariff which provides the user with large volumes of hot water to use throughout the working day with significant cost savings.
In general, these high-temperature heat pumps provide a relatively straightforward method for an installer/specifier to access the residential heat-pump market with minimal requirements to modify or work on the existing heating and hot-water system.
Twin-output heat pumps
These heat pumps can provide a very efficient method of approaching certain projects and can provide a number of output options with up to 100% heat recovery on split cooling and heating loads. These machines are suitable for both residential and commercial projects. They can extract heat from the air or from the ground, offering great flexibility in terms of application and operation.
This is much more of a specialised application but twin-output heat pumps can provide huge benefits in terms of carbon and cost savings compared to a single-output heat pump as they will provide:
•simultaneous heating and hot water;
•simultaneous heating and cooling;
•simultaneous cooling and hot water.
Exhaust-air heat pumps
Apartments and small housing units with a peak heating load of around 3.5 kW are suitable for exhaust-air heat pumps. Exhaust-air units can provide both heating and hot water with a built-in domestic-hot-water cylinder.
These units extract air from within the property — usually bathroom and kitchen areas. Heat is extracted from this waste air and upgraded by the exhaust air heat pump to provide heating and hot water.
Such units are about the size of a domestic refrigerator or freezer. They are also quiet and, importantly, have no outdoor components.
It is important that these units are correctly applied or the electric heating in them will operate at too high a level, causing the unit to become less efficient and less cost effective in operation. Therefore guidance on installation from the manufacturer is recommended to confirm equipment suitability.
Garry Broadbent is managing director of ICS Heat Pump Technology.
Related links:
Related articles: