Time for a real rain check
Achieving very low usage of mains water will require the harvesting and use of rainwater, as Mike Norton explains.
For centuries, property owners harvested rainwater for a variety of uses in their homes — until the Victorians introduced the concept of universal piped water.
Now, more than a century later, we are seeing a renewed interest in rainwater harvesting — a trend driven by issues associated with current unsustainable levels of mains water use and global warming.
Reducing water consumption to conserve of water stocks has become a priority for architects, builders and developers to achieve an excellence rating against criteria set by BREEAM and the Code for Sustainable Homes.
In the public sector, Level 3 of the Code became mandatory in 2007. It will become mandatory for the private sector in 2010. Higher levels are being phased in over the next few years, but many developers are already achieving Level 3 or 4 — and a number are aiming for Level 6.
The significance for rainwater harvesting is that achieving higher ratings requires the installation of more sustainable water appliances to reduce water consumption in the property from an average of 160 l per person per day, to as little as 80 l.
Further legislation is in the pipeline in the form of the latest Building Regulations G, which will be introduced from Spring 2010 and require water consumption to be limited to 125 l per person per day. A point worth bearing in mind here is that we each typically drink only 2 to 3 litres of water per day — a fraction of the treated water currently piped into homes and businesses.
However, interest in rainwater harvesting goes beyond more sensible use of mains water. It is now a prerequisite for planning permission in some areas at risk of flooding. PPS25 requires planning authorities to undertake strategic flood-risk assessments as part of any development. Rainwater harvesting systems reduce surface run-off during heavy rainfall and pass the recycled water indirectly via reuse applications to the foul system rather than the storm drains, so it does not contribute to flood risk.
Rainwater harvesting can also bring property owners significant financial savings if their property operates on a water meter. A full rainwater recycling tank for a 2-storey house with a 100 m² roof can provide enough water for 200 toilet flushes, 30 full washing machine cycles and 12 car washes —giving an annual saving of £256 for a property on a water meter.
All rainwater harvesting systems use typical roof drainage layouts. Rainwater runs down the roof and into the guttering and down pipes in the normal way before passing through a filter, which removes leaves and debris. The rainwater is then stored in an underground tank containing a pump and filter.
This water can be used, with or without the addition of a header tank, for a variety of non-potable uses such as flushing WC pans, washing clothes etc.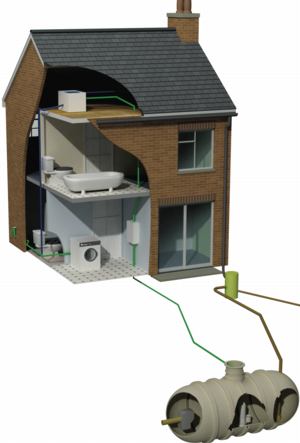 A fully-integrated system of this kind requires its own plumbing and separate pipelines to that of mains water, so is unlikely to be cost effective for existing buildings. A better bet in these instances would be to install a system designed for external use, such as vehicle washing or garden irrigation, where no internal plumbing is required.
We would always recommend bringing in rainwater expertise from the company supplying the system at the very beginning of the project planning to assess your best options. Unfortunately, all too often this consultation happens when the plumbing is already part complete — which can require costly rebuilding work to reconfigure the system.
The supplier should also be able to advise on the size of the system and storage tank to meet the project's needs, depending on the size of the roof and the amount of rain that falls in that locality.
It is also worth noting that the British Standard for rainwater harvesting, BS8515, was published in January 2009. Its aim is to ensure comfort to planners, specifiers, consumers, and compliance by suppliers, to minimum standards. It also addresses concerns about the possibility of cross-contamination of mains drinking water with rainwater.
Modern high-density housing has an average roof area of around 90 m2, which represents a significant restraint on the capacity of a system.
So, we need to support rainwater harvesting from roofs with additional supplies to achieve the levels required by the Code, which brings us to water reuse, or greywater recycling systems that filter and collect bath and shower water. The cleaned water can then be stored in a water butt, or passed into a rainwater harvesting tank and used on flower beds, for flushing toilets or for washing clothes and vehicles — but not for drinking.
Devices such as Kingspan's Ezy-Filter, which is about the size of a champagne bottle, can enable water savings to be doubled over and above rainwater harvesting for a relatively modest additional investment.
A British Standard for greywater recycling equipment, BS8525, will be introduced towards the end of this year.
When I made a presentation at the launch of UK Water Savings Week in July, I closed my presentation with the words: 'It isn't rocket science; it is common sense'. And it is.
Mike Norton is technical director of Kingspan Water and chair of the UK Rainwater Harvesting Association.
Related links:
Related articles: