Sontay's new catalogue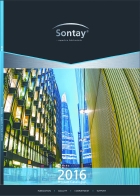 The latest catalogue of Sontay, which specialises in field control devices, demonstrates that sensors can cost just 2% of building costs but have a critical impact on its performance. New products for 2016 include the ST touchscreen thermostat, SonNet wireless sensing and the SB/SM smart communications sensor.
The SB/SM sensor can transmit data from up to nine variables over a simple 2-wire data bus.
Managing director Sandy Damm says, 'Smart communications is expected to grow in importance in the coming year, and this catalogue outlines everything our customers need to know so they can embrace this new world and the internet of things.'
Related links:
Related articles: