Mikrofill adds to Ethos range of boilers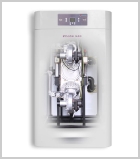 Mikrofill has added two floorstanding boilers to its Ethos range. They have outputs of 350 and 550 kW and a modulation ratio of 20:1. They use stainless-steel condensing technology and incorporate controls well in excess of industry standards.
Each boiler has two burners. UP to eight boilers can e installed in cascade to deliver a total output of 4.4 MW.
Efficiency is in excess of 95% and NOx emissions are to Class 5.
Related links:
Related articles: