The power of information

One of the biggest problems in making buildings more efficient, often with little budget, is having access to the right information at the right time. Steven Harris of Schneider Electric discusses how advances in software can provide an holistic view of how a building functions, how much energy is used and, importantly, where savings can be made.
With such a big focus on carbon reduction, Think, the European Commission's energy policy advisor, suggests that in order to reach EU energy and climate change targets, it will be necessary to refurbish most — if not all — of the UK's buildings by 2051.*
This will inevitably result in increased pressure on building managers to lower their building's energy consumption, while at the same time remembering that much of the UK's existing building stock has a large amount of legacy equipment in place, often from various suppliers. Although installing an intelligent building-management system (BMS) can prove to be a non-obtrusive and highly effective solution, the prospect may seem somewhat daunting to many, with perceived high costs acting as a significant barrier.
In addition to this caution, capital budgets are still some way behind where they were before the economic downturn, with businesses tasked with doing more for less. Further, a clear gap exists between the ability to extract and generate data, and the ability to translate this information into easy-to-digest reports that shape a business's strategy.
Many businesses currently monitor their building's energy usage via a series of spreadsheets and systems all working separately from one another. This disjointed approach makes the whole process of monitoring a building — or even an entire site — far more complex and time consuming than is necessary.
The notion that building managers should be looking at each building application, such as HVAC and lighting, as separate from one another is one that Schneider Electric is keen to dispel. The only way to truly become more energy efficient is to take an holistic view of the building, or even an entire site and bring all systems together onto one platform. This enables the end-user to have a complete overview of how the building or site is functioning. To achieve this, simplicity is key. Data needs to be organised into relevant, actionable reports which are tailored to suit that particular user.
Today's building-management systems are not only able to draw information in from all parts of the building but they can also incorporate external factors such as weather predictions and dynamic energy prices. Traditionally, this level of energy and building-management integration has come at a high cost during both the installation and operational phases, as well as being slow to roll out. This has meant that only larger enterprises have adopted such solutions and even with significant investment, is hasn't been possible to fully integrate it into the existing system.
To address these challenges, Schneider Electric recently launched its SmartStruxure and SmartStruxure Lite solution, which are BMS systems for both large and small-to-medium sized businesses. Both solutions comprise hardware and software which combines engineering, installation and services — ensuring that facilities are energy-efficient and easily manageable. The completely open nature of SmartStruxure solution also means that it can be seamlessly integrated into any building's existing infrastructure, making the transition quick and simple for customers.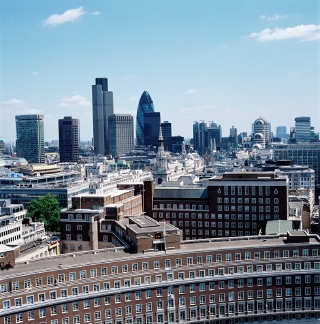 The solution's easy-to-navigate interface means that the BMS can be easily controlled via a standard PC or from a smartphone or tablet — giving building managers complete control, even while they are away from site. Not only is the system highly cost effective during both installation and operation, it has the ability to provide the right information to the right people at the right time — maximising energy savings by clearly illustrating areas for improvements.
Dovetailing alongside SmartStruxure, new software such as Schneider Electric's Building Analytics gives customers even more detailed insights into the efficiency of the mechanical and electrical equipment connected to the BMS. This service takes real-time energy-usage data and generates reports that detail hidden costs and inefficiencies, providing a list of actionable recommendations.
How is the building of the future likely to work?
Bringing all of the information that a building generates into one place is sure to be a key factor. This transparency of information will be business critical on many different levels, as closely monitoring energy usage will highlight where savings can be made, thus enabling a business to save thousands of pounds. Occupancy comfort will also become increasingly important, ensuring the internal building environment can cater to all employees in an intelligent and efficient way. Ultimately though, end-users will be able to take control of their surroundings and give the business a real insight into how a site is functioning.
By working with an energy-management expert to pull all the building's systems together on to one central platform, it is possible to create a complete picture of the building. This means that everything from power monitoring and energy contract management, to the energy monitoring aspect of a building, can be seen on one interface — truly offering building managers a window into their world.
Steve Harris is UK sales director at Schneider Electric.
For more information on SmartStruxure solution, SmartStruxure Lite solution and StruxureWare, please visit the link below.
Related links:
Related articles: